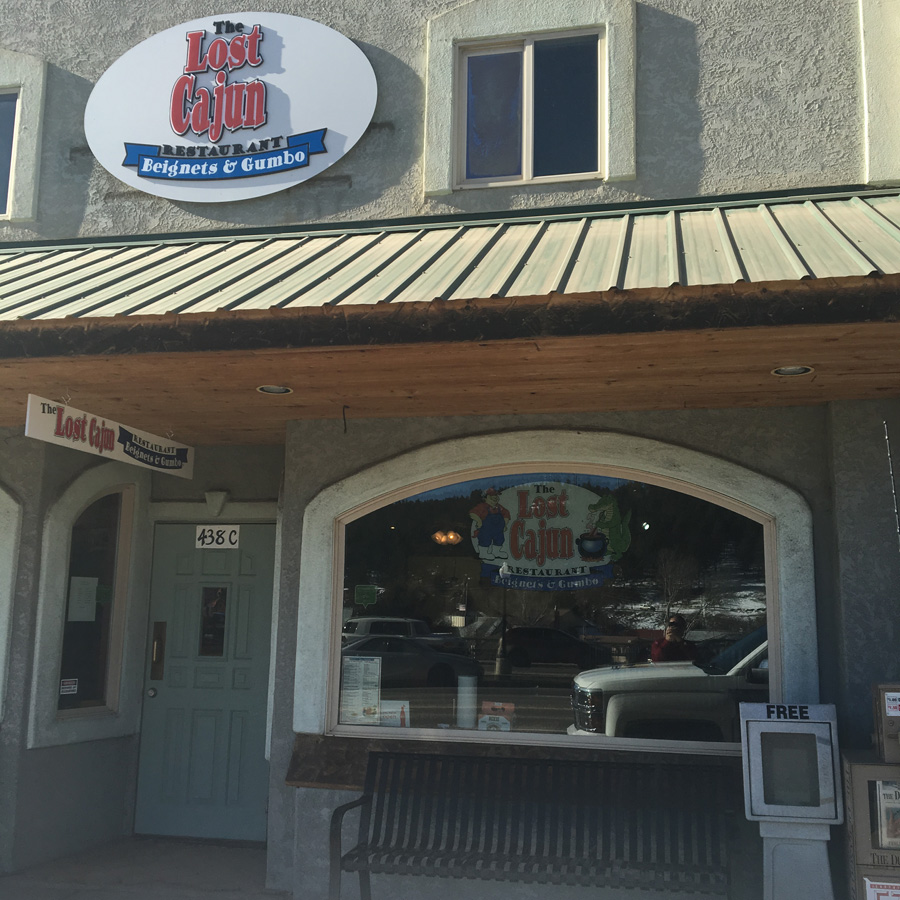 Location:
438 C Pagosa Street Pagosa Springs, CO 81147
970-264-0608
Hours:
Sun - Sat:
11:00 am-9:00 pm

Open every day (except Christmas Day)
The Lost Cajun® in Pagosa Springs, Colorado
Michelle and Ryan live close to the original Lost Cajun® in Frisco,Co. and like most folks that are from Louisiana or that have experienced REAL Gumbo, when they see a "Gumbo Shop" any where but in Louisiana their first thought is always NO WAY!

But they became fans and friends after tasting our great food and seeing that we had brought a real taste of New Orleans to the mountains. After several years and lots of thought, they both decided that it was time to take the plunge and become REAL LOST CAJUNS®! How could you possibly be more lost than Pagosa Springs Colorado! As I have said many times before and its becoming more true everyday, we get lost in the coolest places!

Welcome to the family!

Griff & Jon
"The Lost Cajuns®"


---

Michelle Juneau
I'm Cajun by birth. Even though I was raised in the city (New Orleans), my parents are from small Cajun towns and were sharecroppers. Both my parents speak French, and it was my dad's first language.

When I moved to CO in 1991 for school, my friends back home would say "what's a Cajun girl doing in CO?". I said "enjoying life". Being born and raised in New Orleans I was lucky enough to take my culture with me. I graduated from Cu Boulder, but I still bleed purple and gold for my favorite college team. I've been a Saints fan since before we were the "Aints" back in the 80's, and on Sunday during football season you'll see me cheering my favorite NFL team.

My friends in CO would find out I was from Louisiana, they would ask "are you Cajun? and can you cook?". Once word got around, my house was always popular on gumbo night. Twenty-three years later I'm still cooking my favorite Cajun dishes for friends. Now this "Lost Cajun®" girl can share her cooking and heritage with yall. As we say in the bayou "cher, pass the filé and put on da rice - da gumbo's ready"!

Ryan Strong
I've always loved the music and culture of New Orleans. Like most Yankees, I didn't know what it was all about until I met a Cajun girl a few years ago. There's lots of things about the Cajun culture I'm still learning, like why you only cook red beans and rice on Mondays. The food is what drew me in, and is what hooked me for years.

I grew up in Michigan, about as far away from the bayou as possible. I may not have known what a bayou was, but we definitely had swamps and went hootin and hollerin for fun. I came to Colorado for semester break from college in 1997 and well....guess I'm still here. If I'm not serving gumbo, you'll find me hiking the trails, skiing the powder, or fishing the rivers.

The first time I went to Louisiana I did the touristy thing in New Orleans, but it wasn't until I met my girlfriend's parents then I started to understand what the culture was all about. Just when I thought I had it down, I met the rest of the family! Listening to them speak with thick Cajun accents I felt like I was in a foreign land. Then I realized they were speaking French - people still do that down there! It is that completely unique culture that I want to share with you. So let's turn up the zydeco music and PASS A GOOD TIME!